From the beautifully intriguing Salvador Dali Museum, to the Clearwater Marine Aquarium, and the Great Explorations Children's Museum, there is something for everyone to explore beyond the sand at St. Pete.
SALVADOR DALI MUSEUM
Considered to be one of the greatest artists of the 20th century, Salvador Dali has inspired generation after generation with his one-of-a-kind artistic styles. Saint Petersburg's waterfront Dali Museum is home to hundreds of Dali originals, including several of his "masterworks," the largest collection of his work outside of Europe.
---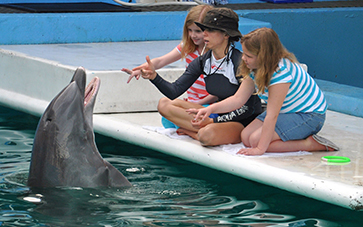 CLEARWATER MARINE AQUARIUM
Animal interaction exhibits, educational shows and eco-tours await you at this marine life rescue center. Home to dolphins, turtles, and numerous types of aquatic life, you'll learn about and experience your neighbors of the sea in a way you never have before.
---
GREAT EXPLORATIONS CHILDREN'S MUSEUM
Let the little ones run around until they drop at St. Pete's coolest place for kids! Learning and fun blend together at this unique 24,000 square foot center for discovery, play and adventure.
---